Social Distancing: FAQ's About the Facebook Boycott
Hundreds of advertisers have paused Facebook advertising this month in support of a campaign against hate speech that many feel has been left unchecked on the platform. Nearly a week into the month, the campaign is nowhere near the number of advertisers needed to significantly impact Facebook's bottom line. However, it has garnered the attention of many —marking it the largest movement of its kind against Mark Zuckerberg's company. Joining the boycott is a way to show that your brand supports this cause, however for many this decision could be costly. 
How did the boycott start?
#StopHateForProfit was started by a coalition of non-profit civil rights organizations, intended to put pressure on Facebook to take meaningful action against hate speech and misinformation being shared on their platforms. 
Based on the knowledge that 99% of Facebook's $70 billion revenue is made through advertising, the campaign asks businesses not to advertise with Facebook's services in July. The coalition have also shared a list of ten actionable recommendations they'd like to see Facebook implement.
The campaign launched June 17, and focused on US-based businesses. Participation has grown steadily around the globe over the past two weeks. Participation varies, with some calling the boycott a test, while several businesses have announced they'll be pausing their Facebook advertising beyond the July campaign and throughout the remainder of 2020. 
Is Instagram included? 
Facebook owns Instagram, WhatsApp, and Messenger — meaning they're all included in the boycott. While other platforms such as Twitter, LinkedIn, TikTok, and Pinterest aren't specifically included, some brands have announced a wholistic pause on their social media advertising. 
What about organic content? 
Opinions are split on organic publishing with some brands taking a complete break from the platforms while others have said they'll continue to publish content and engage with their audiences organically. Customer service expectation from consumers is a top consideration in continuing to use the platforms organically.
Who is taking part? 
The campaign website includes an up-to-date list with the growing number of businesses who've officially joined the #StopHateForProfit movement, including big names such as Unilever, Coca-Cola and Microsoft among others. Many other businesses, such as Starbucks, have announced they're taking a temporary break from social media advertising while not officially signing on to the movement. 
What has Facebook said?
The largest movement of its kind to date, the campaign has managed to get Facebook's attention sparking Mark Zuckerberg to publicly live stream a town hall announcing measures to protect against hate speech in ads and voter misinformation on election day. Many feel these measures do not come close to addressing the requested changes and there's a general consensus is that it's not enough. 
Zuckerberg has since been quoted as saying that he won't change policies based on a threat to revenue. A sentiment which has been echoed by several Facebook execs. Zuckerberg has also said that "advertisers will be back on the platform soon enough."
So, should I join the boycott?
As you might expect, whether or not to pause your Facebook advertising is not a simple decision. 
Facebook's platforms are popular among advertisers for a reason. They provide an efficient way to reach and engage with your audience. For small and medium sized businesses, the detailed targeting capabilities help stretch advertising budgets and can provide strong return on investment. Removing Facebook and Instagram as a marketing channel could substantially impact profitability for small businesses, particularly those who are already struggling in light of COVID-19. 
The reality is that the economic pressure currently being created by the boycott is small; though the list of companies participating has grown substantially, the top 100 advertisers make up only 6% of Facebook's ad revenue according to data from Pathmatics. Many of those top advertisers, including Disney, Proctor & Gamble, and The New York Times have yet to sign on. Unfortunately, hundreds of thousands of small and medium sized businesses, who make up the platform's 8 million advertisers, would have to join the boycott to have substantial impact on Facebook's bottom line. Some are calling the boycott a cop-out for businesses who are interested in cutting ad spend following COVID-19 budget reductions.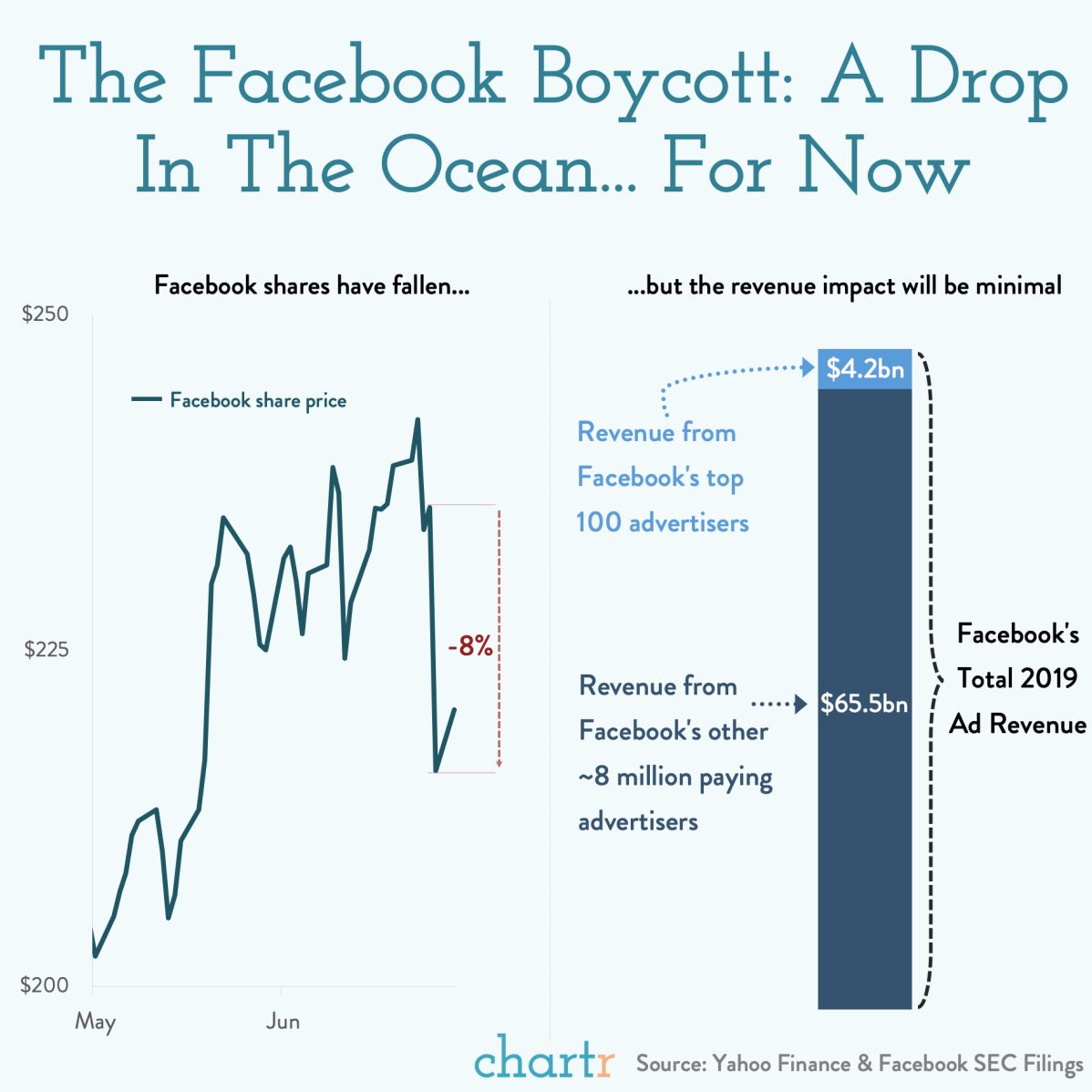 After initially taking a hit earlier in June as businesses announced participation in the boycott, Facebook's stocks have since recovered with share price climbing to $239 on July 6. Despite economic impacts of the coronavirus pandemic reducing ad budgets, analysts predict modest revenue growth for Facebook this year and their user base of over 3 billion people across the family of apps continues to see growth. 
There are a lot of factors to consider when deciding how to proceed on social media for the next month and beyond. Businesses need to and arm themselves with knowledge and act in accordance with what they believe best aligns with their brand values. If you'd like support making that decision for your company, we're here to help.