Organizational Values - Acting with Purpose
The importance of organizational values comes up again and again in my textbook as I finish my last semester at Saint Mary's University, where I'm completing my Bachelor's Commerce degree in Marketing Management. Having a clearly defined set of core values may seem like a no-brainer for any organization that has the desire to move forward with some sense of purpose. But you'd be surprised how often that isn't the case.
If someone asked me to define organizational values, I would say it's the combination of who an organization hires, the type of work/product they produce, and the owner, managers, and employees' shared goals. Basically, they act as the foundation of an organization.
As students, we're only exposed to the textbook version of organizational values and their role. It can be a very one-dimensional way of looking at things. It wasn't until a stint as an intern in New York at Strawberryfrog that I started to get a feel for how these values are put into practice. And it was there I began to understand the notion of creating a business or brand with a purpose. A notion I find to be exciting. That line of thinking really started to expand and take shape during my present role here at Trampoline.
When I first stepped into Trampoline HQ, identifying our values and what they stood for as an organization was not an issue. It was the first thing we talked about. And it soon became clear, that for Trampoline, their values were not just words on paper. As a matter of fact, one of their guiding principles is written right on the wall when you hop off the elevator.
From that very lofty overall guiding-principle, I learned that Trampoline has a set of seven core values that ultimately support that umbrella vision. And that these values are integral in shaping the structure and culture of the entire agency.
What are Trampoline's values?
Agility: Our curious nature empowers us to identify opportunities, plan proactively seamlessly adapt to change.
Wellness: The recognition of personal wellness and the wellness of others in our daily interactions and decision making.
Courage: The confidence to step outside your comfort zone, take risks, and inspire each other and our clients to do the same.
Collaboration: The art of coming together in the pursuit of better work and a common goal, recognizing we're stronger as a team.
Creativity: Looking at the world in new ways and harnessing imaginative and innovative thinking that can create unexpected connections.
Integrity: Honesty, responsibility, accountability, and most importantly, doing the right thing- even when no one is watching.
Sustainability: Putting our planet first, including impact within Trampoline, and in guiding our clients toward sustainable practice.
Values need nurturing (Trampoline POGS)
I also learned that these values are not a set it and forget it exercise. For the values to continue helping guide the way forward, they need to be nurtured and supported. As part of making sure that happens, Trampoline has a program in place to identify and celebrate employees who are living the values day-to-day. With this program, all team members are supplied with a limited amount of POGS they can customize (with the identified value and what they did to exemplify that value) and present to fellow employees. At the end of the year, the POGs are entered into a hat to be part of a draw for some pretty cool prizes.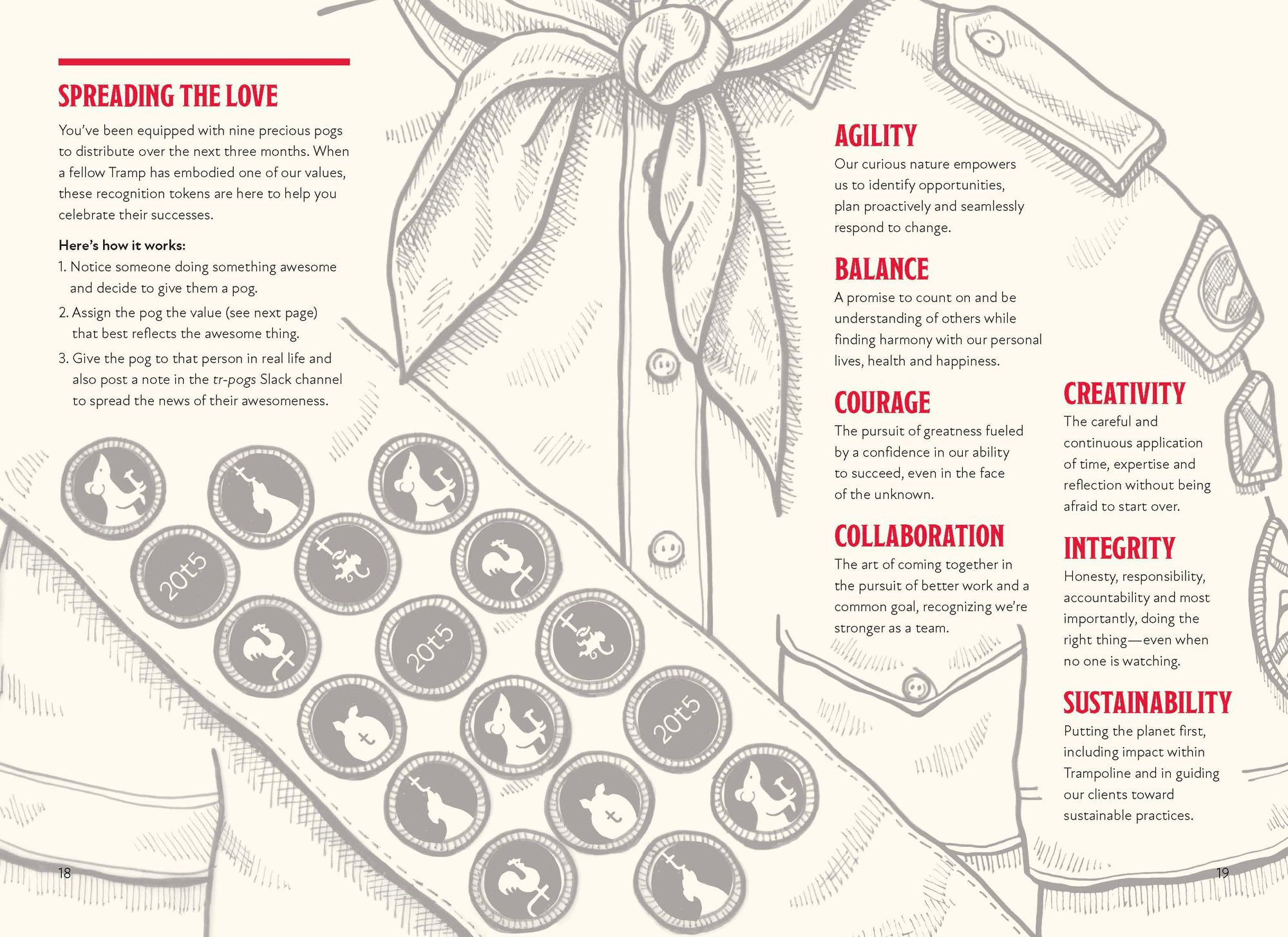 How do we live/breath these values?
As a new team member, it didn't take long to learn that value alignment within an organization is a critical part of galvanizing its culture toward a greater purpose. For sure, as a business, we need to make money. That's how the lights stay on and our payroll supports our economy. But as a young person just starting out, like many people my age, I'm looking for something a little more meaningful than that. That sense of purpose that I mentioned earlier. And as I continue my journey beyond the textbook, it's become apparent how integral developing, nurturing and living by a strong set of values is in driving purpose in any workplace.