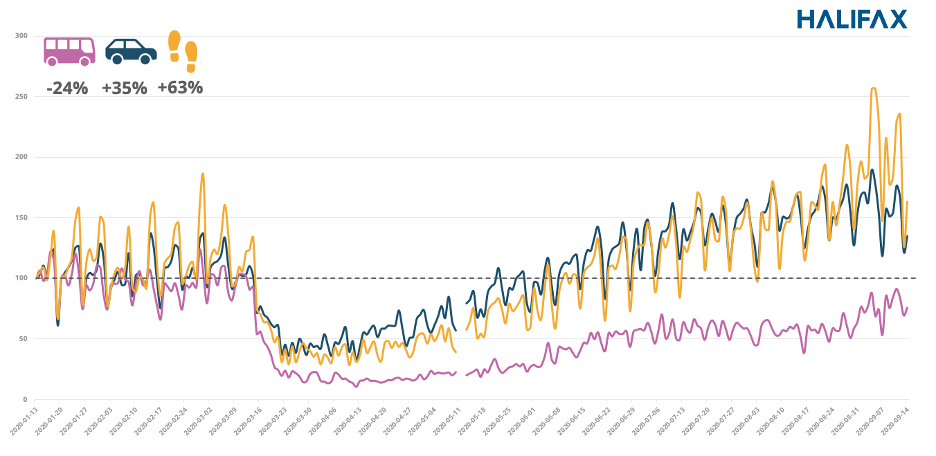 Thanks to the team at Apple who have made their robust mobile data readily available (they have 50.4% market share in the Canadian mobile segment and a significant lead on number 2 Samsung which controls 28.7% of the market*), we now have much more intelligence of the movement of individuals and a better understanding of how recent global challenges have impacted the way we move here in Halifax. 
Using their sophisticated tech stack grounded in real time mobile data, Apple has broken down the movement of individuals into walking, driving and transit modes and made that data available online. With January 13th, 2020 representing the baseline (Index of 100), we can see how movement across all three primary transit modes has changed over time. 
Historical traffic patterns would suggest that March/April is the time of year when the weather starts to turn and Haligonians start to travel more frequently. This year, that is far from the truth with the impact of COVID-19 greatly restricting the movement of individuals across all three primary transportation modes with walking, driving and transit all seeing significant decreases in Q2 vs Q1.
That all seemed to change in June of this year with both walking and driving starting to see increases vs. the baseline. Perhaps it was one too many freshly baked loafs of bread, or puzzles (both topics peaked in search volume during the time period), but one thing was for certain, once the restrictions started to lift, Haligonians were quick to get out and enjoy our great city and region. The amazing restaurants, new patios, and abundance of environmental based attractions. While transit figures continue to be down, now entering week of Sep. 14th Haligonians are walking 63% more, and driving 24% more than they were at the start of the year. While there are seasonal factors to consider, the data does showcase an upward trend in mobility that does not appear to slow down in the foreseeable future. 
To learn more about the mobility patterns of individuals across Canada and other major cities around the world, you can learn more using the following link:
https://covid19.apple.com/mobility
Source of Data: https://gs.statcounter.com/vendor-market-share/mobile/canada