DX3 Retail Marketing & Technology Conference Recap
At the beginning of March, I had the opportunity to virtually attend DX3, Canada's biggest retail marketing & technology event. With an impressive line-up of over 100 different speakers from brands including Loblaws, Pepsi Co, Air Miles and Ikea, it was an incredible opportunity to learn the latest trends from industry leaders in the retail space.
With lots of great panels and keynote speakers, there was a lot to be learned across many different topics and industries. In particular, there were three key trends I took away from the conference:
1. Pivoting
Seeing as it was a retail-focused conference, it was inevitable that the impact COVID-19 has had on the retail sector was going to be discussed. Retail businesses, large and small, across different sectors were faced with many challenges this past year. In a matter of weeks, brands were forced to take a close look at their online presence and make immediate updates to enhance their experience. Jason Test, the VP of Sales for Digital and In Store Commerce at PayPal, cited a 21% growth in e-commerce in Canada over 2020 for this very reason.
Pivoting from in-store to online was not the only change brands were required to make in the wake of the pandemic. In one session called The Changing Retail Landscape - A Call for Courage, Regional VP of Sales and Distribution for Canada Marriot International noted that due to the impact COVID-19 had on travel, Marriot had to pivot towards a new target audience. From once marketing to those looking for a premium vacation experience, they pivoted to locals who were stuck working at home in hopes they would rent a room and work from the hotel instead. They also began to see an increase in staycations amongst families and those looking for a night "away". They anticipate once travel restrictions are lifted, they will once again have to pivot their targeting strategy as there will be a pent-up demand for luxury stays to make up for all of the missed events (birthdays, graduations, engagements) that happened over the pandemic.
Over time, businesses have always had to pivot to keep up with the latest trends, but never as drastically and as quickly as they had to in March 2020. This adaptability is a characteristic I think the retail sector will keep top of mind as they grow and expand their businesses over the coming years.
2. Agility
Diana Frost, the Chief Growth Officer at Kraft Heinz Canada led a keynote session called Sparking Happiness: How Iconic Brands and Businesses are Using Scale and Agility to Transform Themselves for Today's Consumers. In this session, she spoke to how being agile allowed Kraft Heinz to move at what she called "the speed of culture" and stay up to date on the latest trends. One way they became more agile was by changing their internal approval process and making smaller more focused teams, to allow for quicker turn arounds and to be more reactive to what is happening in the social media world.
One example where this new agile structure was able to benefit them was a partnership with Weetabix. Weetabix (a UK cereal brand) tweeted "Why should bread have all the fun, when there's Weetabix? Serving up @HeinzUK Beanz on bix for breakfast with a twist". This caused the internet to go wild, with many big brands reacting, such as Tinder tweeting "Trust us, this is not a Match" and Domino's Pizza posting "Us: Pineapple on pizza is the most controversial food ever. Weetabix: Hold my spoon." Even the UK's National Health Services tweeted "that tweet should come with a health warning". Although not an intended partnership, Kraft Heinz saw this as an opportunity and within 48 hours of the original tweet hopped on board by creating in-store signage based on the concept and received 2.3 billion impressions online.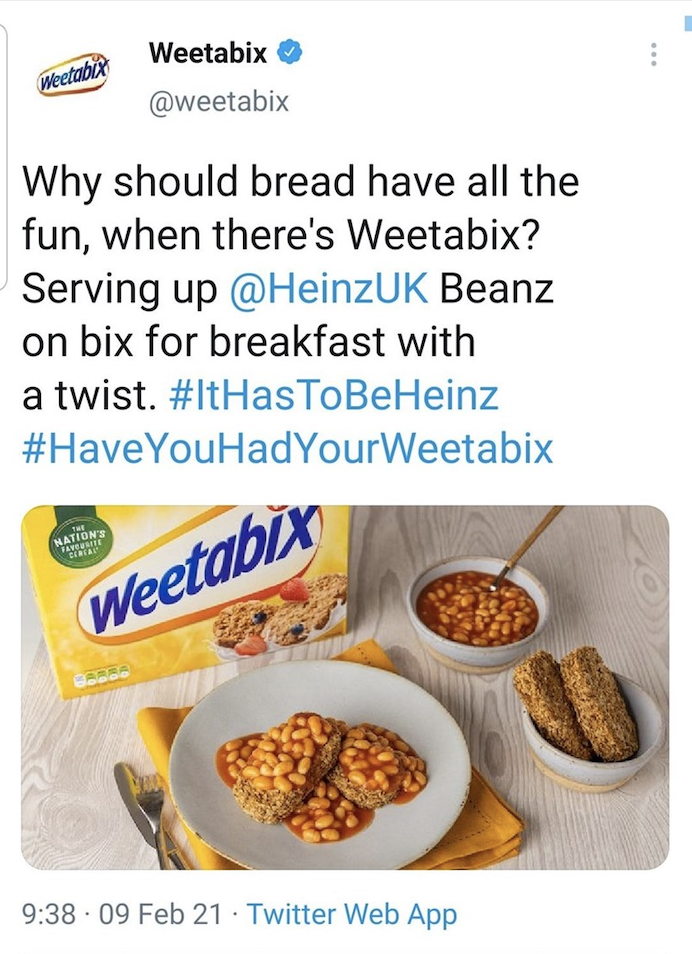 This sort of agility has also allowed Kraft Heinz to push boundaries and be bold with their campaigns. This year they launched their infamous Kraft Dinner Send Noods campaign, as well as seasonal campaigns like Pumpkin Spice KD. Both campaigns got a lot of flack on social media, with the Send Noods campaign actually being removed as social media users commented that Kraft "sexualized mac and cheese". However, that didn't stop the campaign from getting tens of thousands of people participating and sending "noods" to their friends.
Diana highlighted one of their favorite quotes at Kraft Heinz is "great leaders are not the smartest people in the room. They are the bravest", and it's clear Kraft Heinz's agility has a direct connection with their bold and brave concepts.
3. Social Movements
Throughout the past year living with COVID-19, not only did we as consumers take stock of the things that are important to us, but brands have also done the same. Now more than ever, it is evident the clear desire consumers have for wanting to make a difference. Multiple speakers at the conference spoke to how consumers these days (in particular millennials) are "voting with their dollar", meaning putting their money behind causes and brands that they care about. Consumers expect transparency, and real action from the brand they are choosing to support.
Allison Litzinger, the VP Marketing of Brand, Customer and Loyalty at Hudson's Bay explained in a session called Social Movements and Marketing how even though they are one of Canada's largest brands, they understand the importance of making a difference. That's why they have decided to launch a digital marketplace platform to allow small local businesses to sell their products on a larger scale. Their goal is to support small businesses, while also using it as an opportunity to represent all Canadians within their marketplace.
It is evident that more and more businesses will be pursuing social causes as a part of their business plans, but consumers have been clear, it's much more than just supporting multiple causes, it's about supporting the right cause that aligns with your brand at the right time.
Conclusion
As we get closer to the light at the end of the tunnel of the pandemic being over, retailers are excited to get back to normal, but without a doubt will continue to apply all of the learnings they have gained over this past year. As Kim Saunders VP, Community and Partnerships at Canadian Tire said "it's not about what COVID did to us, it's about what COVID did for us".